THE BEST GLOVES YOU EVER HAD
You can finally use your smartphone or smartwatch even on frosty winter days without cold hands.
Thanks to the specially developed, abrasion-resistant and conductive microfiber surface of the PerformanceGloves, your hands no longer have to freeze when typing WhatsApp etc.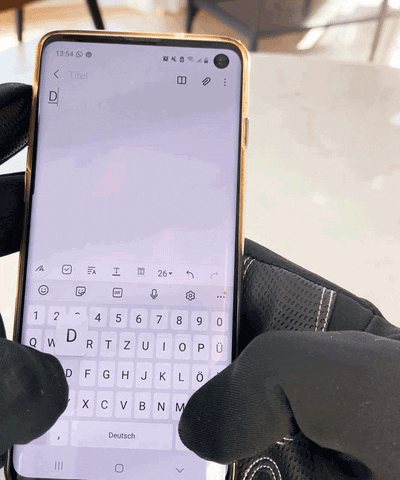 100% WATER RESISTANT
Thanks to the innovative use of several different layers of material, the PerformanceGloves are 100% waterproof. They convince with breathable, super soft fabric and warm fleec lining.
MULTIFUNCTIONAL GLOVES
PerfomanceGloves warm your hands, are touchable, non-slip and have a super soft, comfortable and high quality wearing comfort.
Whether for women or men, the PerformanceGloves are the best choice for all outdoor activities such as running, cycling, hiking, skiing or walking.
ANTI-SLIP
The palms and fingers are made of non-slip and high quality materials. The strong grip prevents the risk of slipping and ensures more safety during various outdoor activities.
Size Chart
Due to the multi-layered, stretchable material structure, the gloves are cut tightly.
YOUR SATISFACTION GUARANTEE
If your PerformanceGloves have not convinced you, you can send them back to us within 14 days and the full amount will be refunded to you.
CONVINCE YOURSELF OF YOUR PERFORMANCE GLOVES AND MAKE YOUR LIFE EASIER AND THOUSANDS OF CUSTOMERS BEFORE YOU.