About
Draw Anything You Can Imagine
Do you ever wish you could bring your imagination to life? Now you can take those colorful ideas and literally draw right off the page with the 3Draw 3D printing pen. Make incredible 3D shapes and models, custom 3D gifts, elegant notes or cards, and even take scrap booking to the next level!
Drawing in 3D is the perfect activity for any age, whether you want your kids to creatively explore their imagination or you are a skilled artist looking to show off your designs in three dimensions.   Make customized three dimensional gifts for your friends and loved ones for any occasion like birthdays, parties, and holidays! Ditch the old greeting cards & make something that shows you really care!
3Draw was designed to be safe for all ages and eco friendly using clean and non toxic materials. It's also odorless and water based so it wont stink up the house or leave a mess.
Get Yours For 50% Off + Free Filament While Supplies Last!
Bring Your Imagination to Life - Make your ideas literally jump off the page with this amazing 3D printing pen.  Express your creativity like never before, drawing amazing 3D shapes and structures or elegant notes and cards that will impress anyone who sees them.
Easy to Use for All Ages - This 3Draw 3D printing pen is extremely lightweight with a slim design that feels just like holding a normal pen- even kids can easily handle it. Simply power the pen up, allow it to heat until the indicator light shows ready, and in seconds you are drawing in three dimensions.
100% Non-Toxic & Safe - These pens use 100% non-toxic materials that are safe to use with children and around pets. They are also odorless so no nasty smells will annoy you while you are drawing in three dimensions!
12 Vibrant Colors to Choose From- Our 3D printing pen includes filaments in 12 different vibrant colors (10 feet / 3 meters of each) which means that your creativity is only limited by your imagination! Let's make life colorful again shall we!
Adjustable Temperature and Speed- There is a speed controller on the 3D printing pen for you to control the output speed for smoother operation and intricate drawing. It also has an adjustable temperature control allowing you to choose the appropriate temperature according to the filament type you are using.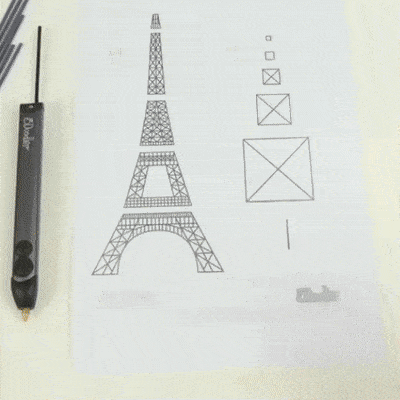 The Modern Homeware Guarantee
The 3Draw 3D Printing Pen is covered by our 30-day 100% money back guarantee if you are unsatisfied. We take all necessary precautions to ensure you're delivered a high quality product, but our customers have peace of mind knowing you can contact us with any issue or concern, and we will fix it right away. Customer satisfaction is our #1 priority at Modern Homeware.
Details
Simply connect power and load filament and you're ready to draw
Rapid heating process only takes a matter of seconds
Indicator light will alert you when the pen reaches optimal heat
The pen will automatically enter standby mode when sitting idle
Kit Includes:
3Draw 3D Printing Pen
Power Adapter (12 Volt, 1 Amp)
User Manual
3 Colors x 29.5 Ft (9 M) 1.75 mm PLA Filament
Creative 3D Printing Guide (13 Pages)
3Draw Kit Box
FAQ
Frequently Asked Questions
Is the 3D printing pen hard to use?
Absolutely not! Anyone can pick up the pen and start making incredible 3D drawings with our free stencil templates.  That being said, the more artistic skill you have and practice you get, the easier you will be able to really take your creations to the next level.
Can my kids use the 3D printing pen?
3Draw is a perfect way for kids to enjoy a fun activity while being productive and using there creative side at the same time.  It's 100% non-toxic and safe to use for children as well!  Sit back and relax as your kids get hours and hours of enjoyment out of the 3D printing pen!

How long will the filament last?
The life of the filament depends on what you're drawing and how often you use the pen.  You can think of each creation in terms of length of each line, where a typical "page" would be anywhere from 6 inches to a few feet.  The includes 120 feet of filament will typically last for dozens and dozens of creations.  We suggest adding the extra filament at our discounted price and you'll be set for months!
Will the 3D printing pen make a mess?
The 3D filament i odorless and water based so it wont stink up the house or leave a mess.  3Draw is designed to be safe for all ages and eco friendly using clean and non toxic materials. 
How does your 30 day money back guarantee work?
We're so confident you'll love your 3Draw 3D Printing Pen, we'll let you try it for 30 days and if you don't like it for any reason then send it back.  We'll refund or replace your order free of charge.